James Harrison Says "No Hard Feelings"
What an end to such a prolific NFL career for former Steelers linebacker, James Harrison. From being cut multiple times to begin his career, to becoming an NFL Defensive Player of the Year and Super Bowl Champion, Harrison announced this week that he is finally hanging up his cleats for good.
I've missed way too much for way too long…and I'm done.
Many thanks to my family, coaches, the… https://t.co/Ej5TCj2P3r

— James Harrison (@jharrison9292) April 16, 2018
After the turmoil that was the departure of Harrison to eventually signing with the New England Patriots, Harrison had this to say about his former team:
"I have no problem with the Steelers family. I have no problem with the Rooneys. They made a business decision that was best for their organization. I made a business decision that was best for me and family at the time. We went our separate ways. Fans get mad because they're stuck with a team, one team, that's their team. At the end of the day, it's a business. Yes, you have loyalties to teams, but when it comes down to it, it's a job, and when your job fires you, you need to find another job. … There were a lot of things said, and I think a lot of guys said things because, hey, they were hurt, and when you're hurt, you say things you may not normally say." – James Harrison told Ed Bouchette of the Pittsburgh Post-Gazette.
The Steelers locker room was left with mixed emotions after Harrison's departure from the team last season, but one thing was for sure, President Art Rooney II stood behind Harrison and all he had done for the organization: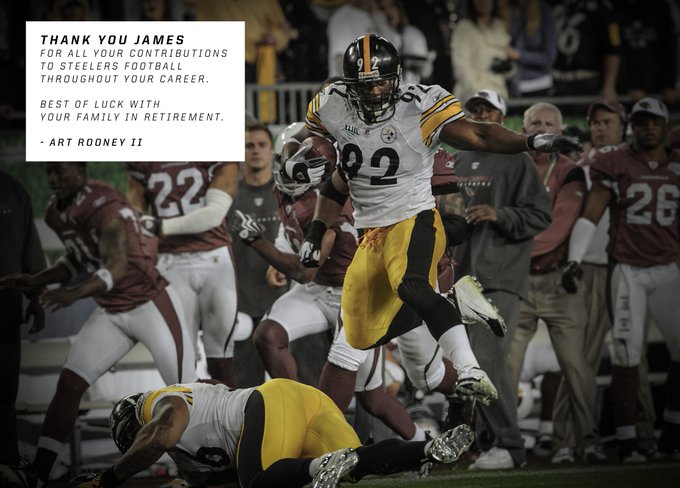 Harrison is retiring at the age of 40 and noted that he wanted to finally spend more time with his sons. Notably, he wanted to make sure that any football game he attended on Sunday was his very own children's flag football games.