The Pittsburgh Steelers completed their Organized Team Activities (OTAs), a staple of every NFL team's off-season regimen, this past week on the South Side. The voluntary program gives teams the chance to meet in person and work together before training camp gets underway. While the on-field workouts at OTAs don't include live contact workouts, drills replicating game-like circumstances are some of the activities coaches love to work on.
Running backs coach Eddie Faulkner said it best himself on Twitter, as a video posted of Najee Harris throwing a medicine ball to the side while carrying a football is a prime example of a game-like circumstance in practice.
Trying to find different ways to recreate game like circumstances! The video in the comments got it right! https://t.co/aolKXitWTO

— Eddie Faulkner (@coachfaulk) June 14, 2022
Faulkner is referencing the video below, in which a fan tweets a GIF of Najee Harris stiff-arming a Las Vegas Raiders defender into the sideline on a pass.
Wax on, wax off pic.twitter.com/RKA9bk11eF

— Bri 'nat (@bton66) June 11, 2022
Drills like this are essential.
What once was considered just a "skill move" is now becoming a very important part of a running back's game: the stiff-arm. Evading tacklers, keeping balance and being able to stay on your feet as long as possible is imperative to the success of running backs, and the Steelers are doing drills like this and more to make sure their running back room is ready for the season. And that is important.
With Harris publicly saying he will take on a lesser role this upcoming season, it is vital the Steelers develop their stable of running backs.
Harris will be available to provide leadership to the running back room, but the key is finding a consistent, reliable second running back to fill that role. Who could that be for the Steelers this season?
The Steelers' current running back room
Pittsburgh's running back room outside of Harris consists of Benny Snell, Jr., Anthony McFarland, Trey Edmunds, Mateo Durant, and Jaylen Warren. Snell, McFarland and Edmunds are the only three backs that have seen any NFL time, with Durant and Warren coming out of college.
Snell had 36 carries last season while McFarland only had three. Edmunds was primarily a practice squad player. McFarland, in an interview with 93.7 The Fan, believes he can be the one to step up in the role.
"I feel ready. I say I feel ready is because I got a chance to learn. Not just on the field, but off the field and what it takes to be a professional.  The things you do during the week to prepare for Sundays, during practice it pays off.  It's something that is starting to click for me in year three. Getting tougher mentally and trying to focus on the main thing finding a role for the team on offense."
McFarland and Snell could not be anymore different with their skillsets. Out of college, Snell was known to be a downhill back who will truck through defenders rather than make them miss. He has assumed this role in the league as well. McFarland was more of the elusive type of back, thriving on making defenders miss by being shifty and speedy.
Durant is coming out of Duke where he rushed for 2,058 yards and 17 touchdowns while averaging 5.5 yards per carry. He caught 55 passes for 480 yards and four touchdowns during his final three seasons with the Blue Devils. Durant can dish out the punishment just like Snell can, but has the ability to absorb and finish through contact.
Warren also fits that same mold. The Oklahoma State product was the Big 12 Conference Offensive Newcomer of the Year and an Honorable Mention All-Conference selection after recording a team-high 1,216 yards and 11 touchdowns on the ground. He can cut without losing speed and gets harder to tackle with every step he takes.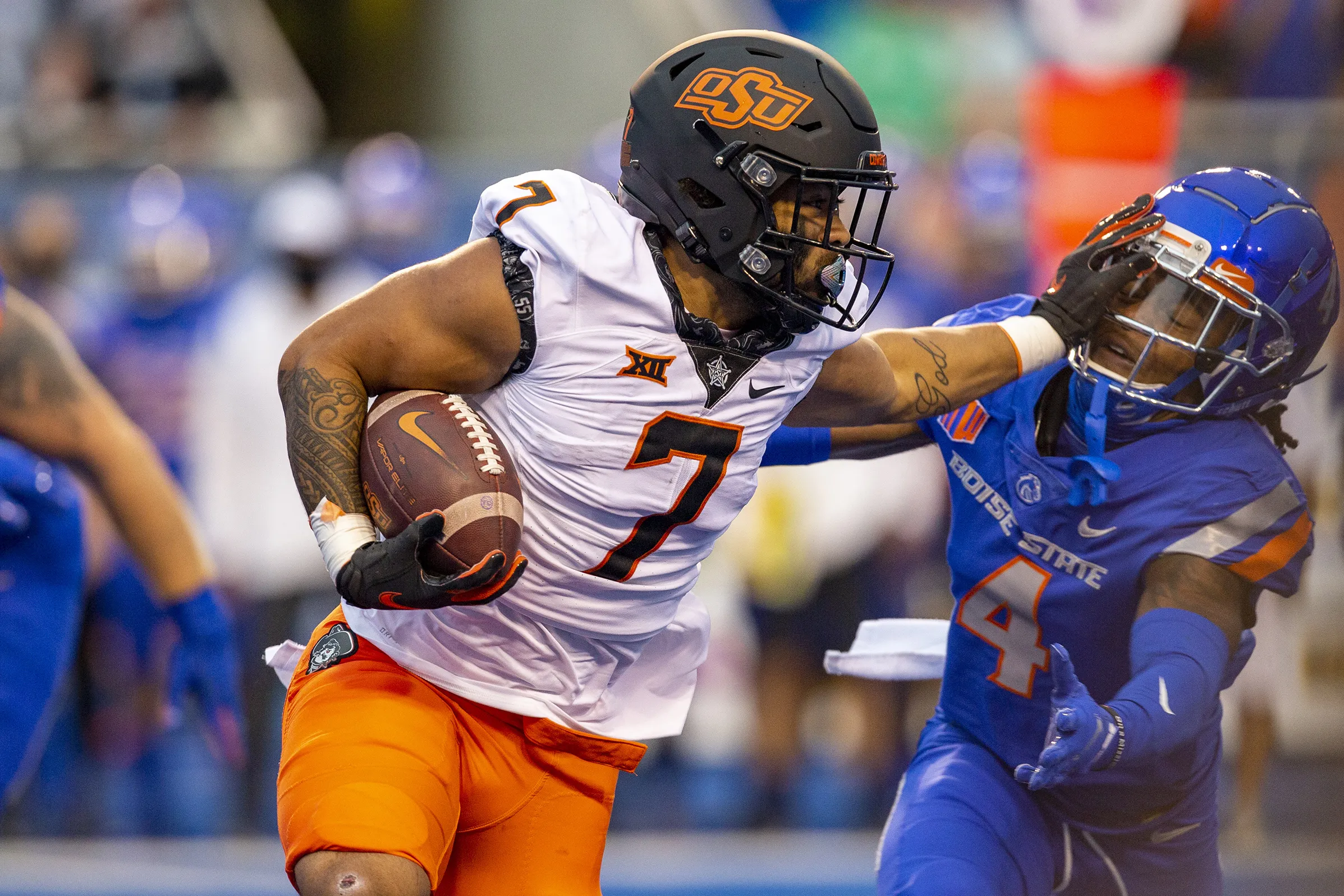 The Steelers have plenty of talent to choose from as the decision to elect a second running back looms, and with this development system from Coach Faulkner, the team should be sure whoever is chosen will be ready once the season rolls around.
What do you think, Steeler Nation? Which running back should be elected the second option behind Najee Harris? Who would you like to see more of this season? Comment down below or at my Twitter, @anthonyravasio.