The Pittsburgh Steelers enter the weekend of the season opener in Week 2 against the New England Patriots with a clean bill of health outside of TJ Watt. There was some question about the availability of starting center Mason Cole on Thursday's report.
Najee Harris, Levi Wallace, Rob Spillane and Cole were listed as full participants Friday after being limited earlier in the week. Cameron Heyward returned to be a full participant after a veteran's day off on Thursday.
According to 93.7 the Fan Steelers reporter Josh Rowntree the team was making sure players could get all the extra rest they need at practice going into the key AFC divisional game on Sunday at Acrisure Stadium.
Even though Watt is on the injury reserve, he still joined his teammates for practice again on Friday this time without protection on his chest.
Here is the full participation from Friday's Practice:
Friday, September 16
OL Mason Cole (ankle) – FP
RB Najee Harris (foot) – FP
CB Levi Wallace (ankle) – FP
LB Robert Spillane (eye) – FP
DT Cameron Heyward – FP Not Injury Related/Resting Player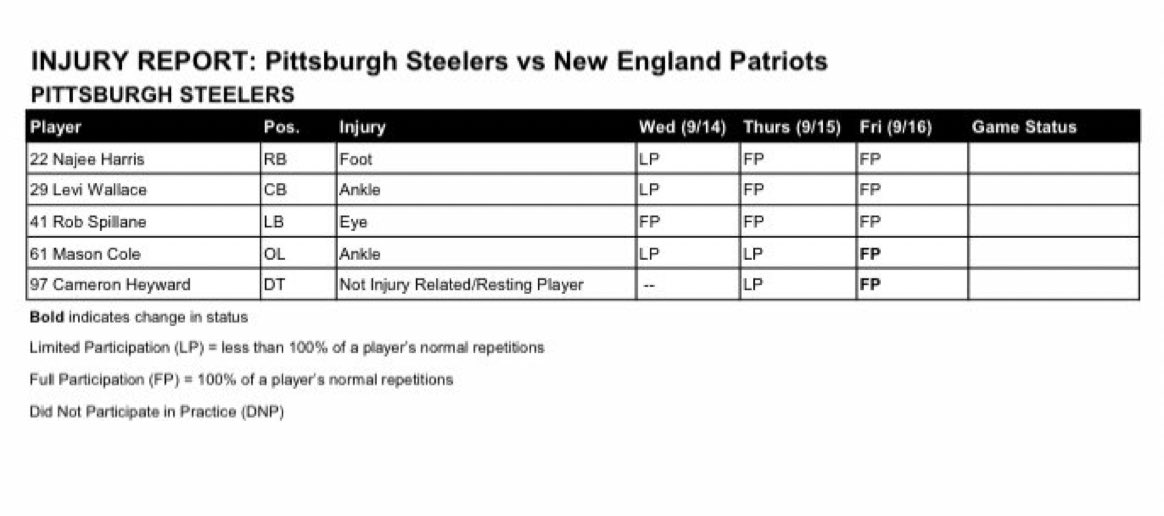 #SteelerNation
MORE STEELERS NEWS
3-Year Anniversary Of Steelers Trade For Star Safety Minkah Fitzpatrick: Recapping Kevin Colbert's Best Move As GM
Buy Or Sell? Steelers Week 2 Edition
Should Steelers Be Worried About Long-Term Status Of Najee Harris For Rest Of 2022 Season?