To say that Pittsburgh Steelers quarterback Mason Rudolph is having a rough off-season would be an understatement. When Ben Roethlisberger announced his retirement at the end of last season, it was widely thought that Rudolph might be next in line to take over the starting role after serving as the team's primary backup for the last three seasons. Then the team acquired free agent Mitch Trubisky, and then they drafted Kenny Pickett in the first round of the 2022 NFL Draft. Then they drafted another quarterback, Chris Oladokun in the seventh round.
That wasn't a great series of events for the veteran signal-caller. Cut to this week.
The Steelers just yesterday inked defensive tackle Larry Ogunjobi to a one-year deal. You may recall he was the one that shoved Rudolph to the ground during the infamous Myles Garrett incident.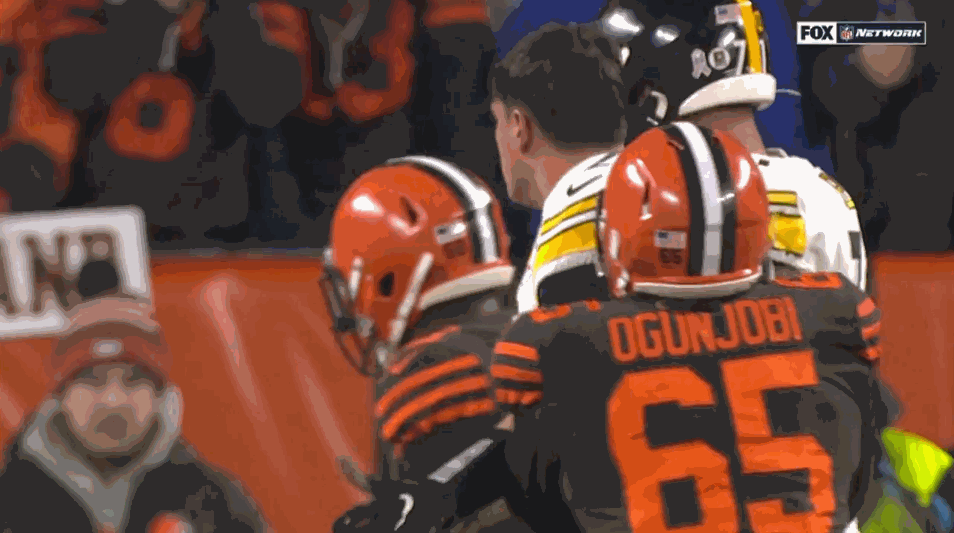 Ooof, that's rough. And lastly, Steelers insider, Gerry Dulac of the Pittsburgh Post-Gazette seems to think the Steelers will part ways with Rudolph before the start of the season. If indeed that is the case, there are a number of NFL teams out there that could use a backup quarterback. In the process, the Steelers could gain a late round pick for the veteran signal-caller who has 10 NFL starts under his belt, having gone 5-4-1 in those contests — a winning record nonetheless.
First up…
Chicago Bears
Chicago has entered into the Justin Fields era full stop. Last year, Fields had the benefit of two veterans around him in Andy Dalton and Nick Foles. Now, Fields is flying without a safety net, with only Trevor Siemian and Nathan Peterman backing him up. Siemian is 13-16 as a starter. Peterman has seen much less success, going 1-9 as a starter in his career. Surely Rudolph could be brought in to battle Siemian for the backup role while pushing Peterman to the practice squad.
Rudolph is a better quarterback than Siemian and may well be a better option to mentor Justin Fields in his second year.
Detroit Lions
Staying in the same division, another potential suitor would be the Bears NFC North rivals, the Detroit Lions. The Lions seem content to ride out one more year with Jared Goff under center before presumably drafting a quarterback early in 2023 and attempting to trade Goff. But if the starting position wasn't shaky enough this year, the backup quarterback situation in Detroit is downright abysmal, with Tim Boyle and David Blough currently set to back up Goff in 2022.
Boyle is their current backup, an undrafted free agent in 2018. He saw his first starts come last year when Goff battled injury and COVID-19 protocols. Boyle went 0-3 with 3 touchdowns to 6 interceptions. If the Lions opt to trade Goff after the 2022 season and draft a quarterback in 2023, they will need a backup more suitable to mentor the rookie, if not start the season as the QB1 — and Tim Boyle is not that guy. Mason Rudolph would easily win the backup in competition if he were moved to the Lions before this season, with an outside chance to start in 2023 before handing the reins over to the future QB1 in Detroit.
Tampa Bay Buccaneers
Now this would be the football gods having felt bad for toying with Mason Rudolph's emotions, throwing him a bone. Tampa currently doesn't have any sense of a plan for life after Tom Brady. And why would they? Tampa Bay was floundering around the football world when the greatest quarterback of all-time just came calling. What amazingly fortunate dumb luck. And how amazingly fortunate would it be for Mason Rudolph to be whisked into a situation where he was backing up the GOAT? And not just backing up, but learning from as well. That almost if not straight up is better than being a one-year stopgap option in Pittsburgh.
The only competition would be Blaine Gabbert, who it turns out is still playing professional football. Mason Rudolph could come in, back up Tom 'freaking' Brady for a year or two, and then possibly take over as the starter when TB12 decides to retire — whenever that may be. Remember, Tampa doesn't have a plan post Tom Brady. Mason Rudolph would fit in nicely into that sort of situation.
Seattle Seahawks
For the first time in nearly two decades, the Seahawks' biggest question is what to do at the quarterback position. Fans in Seattle have enjoyed Pro Bowl level play from Matt Hasselbeck and then Russell Wilson for over two decades. In fact, aside from a one-year gap between the two, you have to go all the way back to Jon Kitna in 1999 and 2000 to find a starting quarterback not named Hasselbeck or Wilson that started as the QB1 in back to back years. And now Geno Smith and Drew Lock will battle it out for the affections of the 12th man up in Seattle. Neither is the long term option, neither is a great stopgap solution either. Would it be worth a 5th or 6th round pick to bring Mason Rudolph into a 3-man competition?
For the Steelers, a 3-man quarterback competition doesn't make sense because you don't want to take snaps away from your rookie. But Lock and Smith are vets with years of experience under their belts. Might it make more sense to push the competition further, or let well enough alone and hope for a good draft pick next year?
What do yinz think? If the Steelers decide to move on from Mason Rudolph, what destination makes the most sense? Let us know in the comments section below!
#SteelerNation